A "Core Game" is one of three games that The Endless Mission comes with. They are:
A Character action platforming adventure game, "Platformer"
A Racing Game set in a futuristic city, "Racer"
A Real-Time Strategy Game (RTS) that uses 3d-pixel style graphics, "Real-Time Strategy"

There are two main ways to play a Core Game:
By Using a Terminal Gate
By Accessing your Library directly
Play a Core Game By Using a Terminal Gate
[
]
To play a Core Game via a Terminal Gate, just look at the East Hall of the Terminal for the sign 'HALL OF GENRES'.

Here, you will find gates on each side of the hall for each Core Game.

Just walk through the gate to start playing it.
Play a Core Game By Accessing Your Library Directly
[
]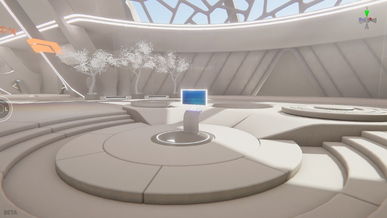 Press 'Esc' to open your menu, and then select the "Content" tab.

Then, select the Library subtab.

You'll now see the entire list of Games inside your Library. Select one of them, then select "Play."