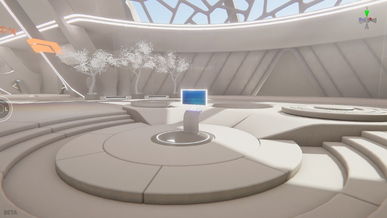 You can browse and download Games and Assets that have been contributed by other users like you by using our content portal.

To get there, first press Esc to open your menu, and then select the Content tab.

From here, You can browse and download the Games and Assets available online. You'll also be able to see things you have already downloaded in your Library.

Online content can be Published (uploaded) by the developers, other fellow game players, and you.

When you select a listing here, the details screen that follows will have a "Download" button on it. Pressing this button will then initiate downloading the content.

You'll know if you've already downloaded something because the Download button will change to say "Downloaded" and will be dimmed/ nonfunctional.

Anything you download will also appear in your Library, which can also be access from within the Content tab. To edit or play something you've downloaded, you have to access it from your Library.